The Mill Albion
Albion, Queensland The proposal incorporates a range of integrated uses including high-density residential, commercial and retail uses, designed in an integrated scheme around a network of public spaces, including streets, plazas and public transport. The development is directly linked to Albion railway station and has significant interaction with the existing Albion Village centre and areas west of the rail corridor.
Client
FKP Commercial Developments Pty Ltd
Status
Proposed
Traditional Custodians of the land
The Turrbal and Jagera people
Gross Floor Area
48,000m²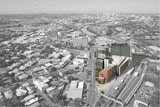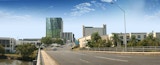 Context
FKP Commercial Developments Pty Ltd submitted a development application to create a mixed-use integrated commercial, residential, community and retail development, with excellent access to the Albion railway station.
This project proposed facilitating the development of 'The Mill, Albion', on the obsolete Albion Flour Mill site and adjoining sites, at Hudson Road and Albion Road, Albion. This major redevelopment site is adjacent to the existing Albion Village centre and the Albion Railway Station and represents an urban renewal opportunity with significant transit-oriented outcomes. The proposal will provide benefits to the local area and the city as a whole.
Concept
Retention and reuse of the heritage Albion Flour Mill building as a coherent part of the overall redevelopment is a principal objective to help preserve the area's cultural significance and create a landmark feature for the site. The heritage Mill building and the grain silos have been retained and effectively integrated with the remainder of the proposal's contemporary design. Sightlines from within the site and throughout adjoining areas have been retained to the heritage Mill building and the silos.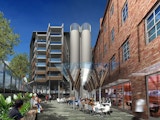 | | |
| --- | --- |
| Structural & Civil Engineers | ARUP |
| Electrical Engineers | WSP Group |
| Hydraulic & Mechanical Engineers | WSP Group |
| Fire Engineer | Warrington Fire Research |
| Access Consultant | Access All Ways |
| ESD Consultant | WSP Group |
| Traffic Engineer | Murray F. Young & Associates |
| Landscape Architect | GMG |
| | | |
| --- | --- | --- |
| Trends | Volume 2418, January 2009 | 'The Mill' |
| FKP Property Group | 15 October 2008 | 'ASX and Media Release' |
| Future Living | Spring Edition 2008, pg. 22-24 | 'Albion Flour Mill' |
| Future Living | Spring Edition 2008, pg. 28-31 | 'Albion Flour Mill' |
| Future Living | Spring Edition 2008, pg. 36-38 | 'Albion Flour Mill' |
| FKP Publication | 28 May 2008 | 'Albion Mill Booklet' |
| Brisbane Times | Nov. 2008 | 'The Mill Defies Property Downturn', Molloy, S. |
| Brisbane Times | Nov. 2008 | 'Why Transit-orientated is the new black', Molloy, S. |
| FKP Publication | Issue 1, Dec. 2007 | 'The Mill Community Newsletter' |
| The Sunday Mail | November 4, 2007 | 'Village to rise in old mill precinct', Giles, D. |
| Future Living | Winter Edition 2007, pg. 44 | 'Milling about' |