The Arc | Nanyang Technological University
KIRK's winning proposal defines the Learning Hub as a series of 'learning platforms' tuned to setting and place, allowing a multitude of futures in learning patterns, modes and technologies. Its open curves, translucency and permeability create a civic gesture, which welcomes the University community at the North Spine and creates cross-campus links to the buildings around. The building program includes lecture theatres, TEAL facilities, student hub and chillout zones, food and retail tenancies and workshop spaces.
Client
Nanyang Technological University, Singapore
Status
Completed 2018
Location
Singapore
Gross Floor Area
17,200 m²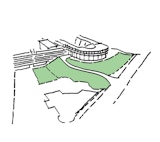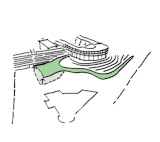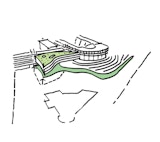 Concept
The Arc is a cutting-edge building that 'breathes,' setting a new benchmark for sustainable architecture. Its open curves, translucency and permeability create a civic gesture that forms a vibrant campus heart and promotes active social learning. The building encapsulates the unique NTU student experience.
NTU's pursuit to nurture creative, comprehensive, and entrepreneurial leaders is supported by projects, such as the North Spine Learning Hub, which will provide a center point for vibrant campus life.
The proposed Learning Hub generates a critical activity node and gateway building for the North Spine. Beyond its functional role in facilitating collaboration and active learning, it will speak as a metaphor for the ideals of the University. The realisation of these aspirations is achieved through iconic architecture which supports this capacity to innovate and inspire.
With a foregrounding of sustainability initiatives, the new facility will transform the delivery of higher education and create a vibrant campus heart through cutting-edge spaces that promote active social learning, and a building that opens and embraces a revitalised landscape setting.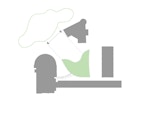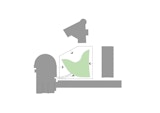 Context
Whilst the Nanyang Technological University NTU campus provides a memorable, verdant landscape setting, the legibility of the campus is difficult for those unfamiliar with its layout and organisation.

Addressing this is central to the design response for the new Learning Hub and aligns with the University's understanding of the role memorable and iconic built forms will play in enhancing campus legibility and character. The arrival experience for those students arriving by bus is generally poor, with differences in levels and poorly structured movement patterns aligning this arrival as less important.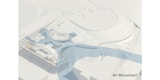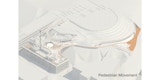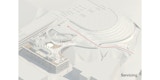 Sustainability - A New Benchmark for the Tropics
To sustain is to continue for an extended period of time and architecturally this requires support from more than just the environment. Buildings should not only function well but also offer healthy environments for building occupants and efficiently consume energy and natural resources. Passive cooling is achieved by the curvilinear 'Arc' building form.
The Arc at NTU re-imagines tropical architecture as a permeable and open building. The extensive building program is inclusive of open learning that is aligned with passive sustainability. The self-shading façade comprises of fine elements that transform the building between night and day.
Kirk designed Singapore's first Green Mark Platinum Building, NTU Learning Hub and in doing so, exhibited the potential of naturally ventilated spaces that are demonstrably comfortable by solely passive means.
The design approach has resulted in a building that is distinctly regional, reflecting and responding directly to the unique climate of Singapore.

The following key strategies are employed in the design response for the new Learning Hub:

Passive
Orientation is adjusted to minimise low eastern and western sun
Plan shape and voids maximise opportunities for natural ventilation
Permeable ground planes (Level 1 and B 1)
Voids are placed to facilitate mixed-mode spaces
Landscape and water features are incorporated to provide a cooling effect
Active
An active ventilated façade is used continuously throughout on the TR+ floors
Mechanical Systems
Conventional systems
View Sustainability Expertise >
Pedagogy & Spatial Typology
Rapidly changing technology and a new generation of students with different experiences and expectations have seen a critical shift from traditional teaching styles to active learning pedagogies. At the forefront of this change are technology-enabled Learning Hubs which facilitate informal learning modes and provide an obvious centre for campus life through the interactive and social dimensions they promote.
As technology becomes more pervasive, learning adapts and modifies to the modes that are most effective. We have imagined the Arc as a platform for such change, a landscape that promotes interactivity in an overtly social setting – using open planning or activity-based spaces to emulate the types of environments most students will find themselves in.
The design response intentionally transcends the cellular planning model and becomes a more effective open learning environment. This allows the University to move away from traditional, passive learning, towards an active learning approach which maximises flexibility, mobility and interaction so that learning can occur in formal and informal settings within and around the building.

The active learning spaces are designed to be eminently flexible and allow a range of different futures - integrating space, technology and pedagogy, enabling the university community to leverage technology and adapt to flexible learning.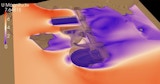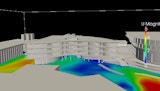 Computational Fluid Dynamics
The curvilinear "Arc" building form allows for passive cooling. Computational Fluid dynamics were utilised to deliver comfortable naturally ventilated spaces. Employing computational fluid dynamics (CFD) and micro-climate analysis we modelled how the building could maximise comfort levels by accelerating outside air movement through the permeable building. This ensured 30 per cent of The Arcs floor area could be entirely naturally ventilated, creating significant energy cost savings and setting a new benchmark for sustainable education buildings in the tropics.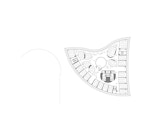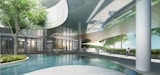 Is unique because it aligns passive sustainability with an open learning pedagogy model; a solution KIRK pioneered. The open learning platforms are tuned to their setting and place, allowing a multitude of futures including flexible learning patterns, modes and technologies. A truly contemporary higher learning proposition for our progressive client.
Richard Kirk

The Arc embraces new performative design technologies that allowed us to fine-tune the design to work passively with the tropical climate.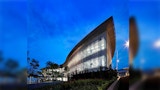 | | | |
| --- | --- | --- |
| Green Mark Platinum | 2017 | Sustainable Building Design |
| | |
| --- | --- |
| Architect in joint venture | DCA Architects |
| Photographer | Patrick Bingham Hall |