Sir Llew Edwards Building
University of Queensland's St Lucia Campus, Queensland The educational building is inclusive of multi-purpose teaching rooms, lecture theatre, offices, breakout terraces.
Client
University of Queensland
Status
Completed in 2008
Traditional Custodians of the land
The Turrbal and Jagera people
Gross Floor Area
20,000m 2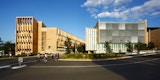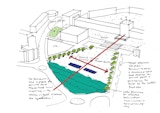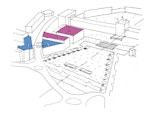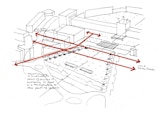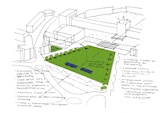 Context
The Sir Llew Edward building is located overlooking the main forecourt of the University of Queensland's St. Lucia campus and figures prominently in this important area's redevelopment. It is the first building to be constructed in this prestigious location in 30 years.
The building was designed to respond to its immediate context in several respects. It addresses its largely landscaped setting by opening its interior out towards views over the University forecourt and by capturing an external landscaped courtyard between its two wings. Its external form has been carefully modulated to respond to the varying scale and form of adjacent buildings. External materials have been selected to respond directly to the material palette of original University buildings. The university's long-term interests as a building owner have been given for its robustness and self-finished properties.
The six storey multi-purpose teaching building for the International Language School occupies the most prominent site on Campus and overlooks the University Forecourt
Award-winning Brisbane architect Richard Kirk links sites to their past without compromising the future
Virginia Laugenson
Future Living Magazine, 2008
Concept
The triangular site resulted in a 'V' shaped building plan where building amenities and foyers were located in the apex with the two resultant wings containing accommodation. These wings have thin floorplates to maximise natural daylighting, and they have been orientated to maximise the extent of views out over the University forecourt. As a result, and in contrast to the adjacent buildings, the building presents smaller scale elevations to the forecourt. Reflecting the significance of the radial building line generated from the Tower of the Forgan Smith Building, the oversailing roof of the building aligns with this building line. It also links the building's two wings to provide enclosure to the captured landscaped space beneath at ground level.
Rather than being determined solely in response to their external context, the building's facade treatments are influenced by the building occupants' requirements for natural daylight and views out. Uniquely for a building on the campus, and in contrast to other University buildings, the building has highly transparent external facades that enable the University to display its operations more overtly and enable occupants to enjoy long-distance views to West End and the mountain ranges beyond.

Interior Architecture
KIRK received a deferred brief for the project and completed the concept design for the interiors during the early building shell construction phases. This allowed for some 'on the fly' reworking of the building shell to suit and enhance this new interior program.

View Interior Architecture >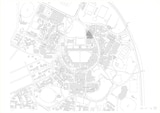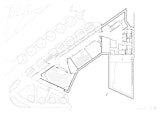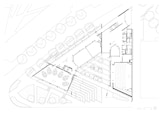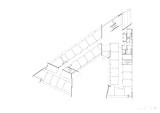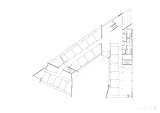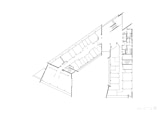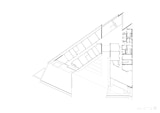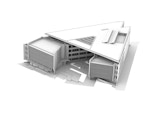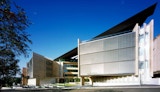 | | | |
| --- | --- | --- |
| RAIA F.D.G Stanley Award | 2009 | Public Architecture |
| CCAA Public Domain Award | 2009 | State Winner |
| RAIA Regional Commendation | 2009 | |
| IES Awards of Excellence | 2008 | Lighting Design |
| | |
| --- | --- |
| Architects in joint venture | ML Design |
| Landscape Architect  | EDAW Gillespies |
| Structural & Civil Engineers | Bornhorst & Ward |
| Electrical Engineer | Connell Mott Macdonald (Aurecon) |
| Hydraulic Engineer & Mechanical Engineer | Norman Disney & Young |
| Access consultant | John Deshon Architect |
| Acoustic Engineer | ERM |
| Contractor | Watpac |
| Photographer | Scott Burrows & Patrick Bingham Hall |