Moffat Beach House
Moffat Beach House is the first CLT (Cross-laminated timber) house to be constructed in Queensland Australia using prefabricated Mass Engineered Timber (MET) construction. The project sits on a complex and constrained site, opposite an active beachfront park at Moffat Beach, Sunshine Coast.
Location
Moffat Beach, Queensland, Australia
Status
Completed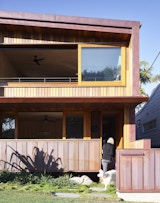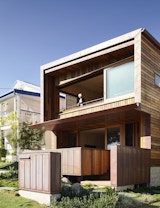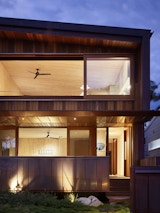 Introduction
Moffat Beach House is the first CLT (Cross-laminated timber) house to be constructed in Queensland Australia using prefabricated Mass Engineered Timber (MET) construction. The project sits on a complex and constrained site, opposite an active beachfront park at Moffat Beach, Sunshine coast.
CLT and GLT (glue-laminated timber) are the main structural and aesthetic components for the project due to their embedded sustainability credentials, alongside program and cost benefits. Utilising timber, one of the few renewable construction materials available to the building industry, allowed our team to design a structure that was not only sustainable but complementary to the beach house aesthetic of Moffat Beach.
As the benefits and utilisation of mass engineered timber become more widely understood within the building and architectural community, we believe it will become the preferred method of construction. Mass engineered timber construction offers architects, clients and builders with opportunities to reduce construction programs, cost, and carbon footprint. As the architectural and building industry work toward a low-carbon / carbon-neutral future, timber focused design and construction offers a positive impact to reducing carbon emissions within the industry.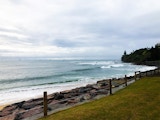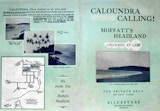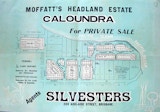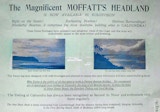 Context
The Moffat Beach House is located on a constrained site, opposite the beachfront park at Moffat Beach, in Queensland Australia. The home's proximity to the Pacific Ocean and surfing coastline places the project within a highly corrosive salt-air environment.
The project's location within a corrosive environment, led the design towards minimal use of steel. Steel is a vulnerable material in coastal environments. Steel contains high embodied energy and is susceptible to corrosion. In response, the project team developed the design concept to be constructed using primarily timber.
The final design uses CLT, a Mass Engineered Timber structural system, for all major elements of the home both visually (internally) and structurally. The CLT structure, a first of its kind in Queensland, ensures a lasting and resilient structure against the corrosive conditions of the adjacent coastline. The narrow site was well suited to a prefabrication methodology, due to the limited access and critical timing required. The narrow site also took favourably to the structural spans available using CLT and GLT.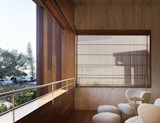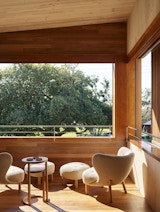 Concept
The home has a modest design developed in close consultation with the clients. The project is sympathetic to the beach house vernacular, embeds sustainability principles, utilises renewable and natural materials, and exploits the sub-tropical climate of the Sunshine Coast, QLD. The concept further balances the client's desire for connection to the nearby coastline and limited maintenance.
Moffat Beach House features Mass Engineered Timber - both CLT and GLT (glue-laminated timber) members, made from Australian grown plantation pine. All the timber used for the construction has been sourced sustainably, grown from regenerated forests, and manufactured locally within Australia. The CLT & GLT used in the project regenerated from the Australian Softwood Plantations in only 8 minutes.
The beach house, that once sat proud in its place, is referenced throughout the project's form, scale, and material palette, providing an outcome that is respectful of the local neighbourhood character.
Materials
The interior living spaces within the modest 3-bedroom residence are a celebration of the natural beauty of timber. The structural timber elements have been left exposed, expressing direct connection to the structural elements that make the home so unique. Internally, the CLT is complemented through the use of hoop pine plywood, recycled blackbutt flooring and colourful joinery that provokes references to the beach house vernacular and the projects environment.
The simple spatial arrangement is encased with recycled tallowwood shiplap cladding coupled with copper trims and awnings. The resilient and robust material palette provide a building that will age naturally.



CLT & Mass Engineered Timber
What is Mass Engineered Timber?
Mass timber, also known as Mass Engineered Timber or MET, is a timber product manufactured with improved structural integrity, sustainability, and intended for quick assembly. MET comes in a variety of types including CLT, GLT, and LVL (laminated veneer lumber). Mass Engineered Timber continues to grow popularity for architects and builders due to its embedded sustainability, versatility and appearance.
What is CLT?
CLT stands for Cross-Laminated Timber. CLT is a form of Mass Engineered Timber manufactured through a panelised construction method. To create CLT's distinct structure a minimum of three panel layers are stacked, glued and pressed together oriented perpendicular to the layer above or below. The cross-lamination of the alternating layers created during this process, is what gives CLT its unique structural properties.
CLT's perpendicular arrangement of layers is what provides each panel with its inherent strength and spanning capabilities. Depending on the number of layers and thickness of the panels, a multitude of design possibilities are possible. CLT is a versatile building material which can be used both internally and externally, when protected. Suitable for both structure and design, CLT allows for a high degree of precision and accuracy during conduction; and maintains its strength and spanning abilities in both directions.
The structure within Bryce Residence (including the walls, floor, stairs, and roof) was designed to be constructed out of CLT & GLT. The CLT and GLT (glue laminated timber) utilised within the project were grown and manufactured from Australian grown plantation pine.
It was important to the client and the design team to ensure the home exceeded sustainability credentials, which further encouraged the use of CLT and GLT, forms of MET (mass engineered timber).
Benefits of Timber & CLT
Eco friendly: Timber is a renewable resource, naturally grown from the land. Timber is easily replanted and regenerated. As it grows, Timber absorbs carbon dioxide from the atmosphere and stores or sequesters that carbon throughout the life of the material. Specifying CLT or building materials made from timber, significantly reduces construction related carbon emissions and the project's environmental impact. Timber uses less fossil fuels during the manufacturing process then concrete and steel, making it a greener building option.
Lifespan: Timber has the capacity to have a long lifespan. If properly protected and cared for, timber is durable and easy to maintain. Timber can easily be refinished, stained, painted, and treated, making repairs or alterations easy and safe. Timber is also resilient in corrosive environments and ages naturally.
Re-use: Timber is easily recycled, repurposed, and re-used. If designed for disassembly, some timber structures can be disassembled at the end of the project's life, to be re-used or reapplied elsewhere.
Health & Wellness: Timber is beneficial to many aspects of a wellness-based lifestyle. CLT/timber is hypoallergenic, insulating, can provide excellent acoustics, and helps improve air quality. According to the report Wood - Nature Inspired design: An update of the Wood - Housing, Health, Humanity Report by Planet Ark, the health benefits of using timber in interior environments can have a positive psychological and physiological effect on the body's overall health and wellbeing (O'Malley et al.). The report further suggests that interior spaces featuring timber, can naturally reduce heart rate, blood pressure, and stress, whilst improving air quality.
Thermal Performance: Inherently, CLT has exceptional thermal performance. When compared to steel, concrete and block construction, timber is a good natural insulator and is a great material choice for interior linings.
Benefits of using CLT on site: Construction sites which use CLT are generally quieter and safer than traditional building sites. This is due to the reduced number of trades required to install CLT and the materials arriving on site prefabricated. Using CLT reduces the use of loud power tools and machinery, and are generally safer to lift, move and work with. This is a key factor when building within a tightly packed residential area, where noise is a big concern.
Safety: CLT is safer to work, compared to steel and concrete, as it is lightweight and easier to lift and manoeuvre. CLT poses less of an overall safety risk to trades during manufacture, handling, installation, and construction.
Prefabricated: Mass engineered timber can be optimised during the design process, to minimise waste and design lighter buildings through prefabrication. Building with this method has the potential to further reduce the amount of concrete required for structural footings. Constructing using prefabricated structural timber systems can further aid in more accurate costing of materials and help reduce waste during manufacture and on site.
Reduced Construction Time: Prefabricated CLT structural systems significantly reduce construction programs and provide the client with greater budget control for the building structure.
Alternative Material: CLT is a great alternative material to use in place of steel and concrete, which have high embodied energy. Timber is a great long-term solution in helping to reduce the building industry's overall carbon footprint.
Reference
O'Malley, Sean et al. Wood – Nature Inspired Design: An Update Of The Wood - Housing, Health, Humanity Report. Planetark.Org, 2015, pp. 13-16, Planet Ark, Accessed 7 Sept 2022.
Technology
BIM software, or Building Information Modelling, played an essential role in the development and success of the home's final design and construction. Using this software, our architectural team were able to coordinate the varying components of the mass timber structure and digitally model various structural components in preparation for manufacture. This early modelling allowed for minimal tolerances and ensured a high level of accuracy during pre-manufacture and construction.
If you would like to know more or would like to explore the possibilities of utilising CLT in your project, please visit our contact page for more information.
Construction needs to move towards adoption of biobased materials that are circular and renewable – as opposed to conventional materials that are linear and extractive. Sustainable timber is an opportunity for the built environment to accelerate the transition to net zero.
Richard Kirk
KIRK Director
Adoption of biobased materials has numerous benefits beyond the urgent need to respond to the low carbon economy but by pivoting towards a bio-based industry enhances climatic, social and economic benefits by decentralising construction's base building materials to that derived from centralised systems – whose certainty of supply and availability has been seen as precarious in the recent and on-going pandemic induced disruption to supply chains.
Richard Kirk
KIRK Director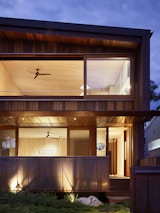 | | |
| --- | --- |
| Construction | D Pearce Constructions |
| Mass Engineered Timber | Hyne Timber |
| Mass Engineered Timber | Kennedy's Timbers |
| Windows and Doors | Duce Doors |