International School 2
K12 full school programme for 1800 students
Client
Perdana Park City
Status
Proposed
Location
Desa ParkCity, Malaysia
Gross Floor Area
30,000 m2
Context
KIRK was commissioned by Perdana ParkCity Sdn Bhd to design a new facility to cater for a full K12 school programme, including an auditorium and indoor and outdoor sporting facilities for 1800 students.
The difficult 6-acre site is at the periphery of the master-planned township adjacent to the elevated NKVE highway. The triangular site geometry combined with the elevated highway to the rear length of the linear site presented considerable challenges to accommodate the spatial and functional requirements of the brief.
The client also emphasized the schools place within the broader community where cultural and sporting facilities are to also serve as an asset to the broader township community.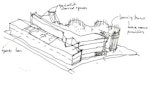 Concept
The concept responds to the constrained site geometry as a series of blocks separated by a linear landscaped court that organise circulation and activate comfortable outdoor spaces for a range of function.
The building is broken into a group of open, interconnected clusters that respond to program. The resulting landscaped voids improve legibility by communicating circulation, function, and facilitate sustainability initiatives by bringing daylight into the depth of the building and improve natural ventilation for social and informal learning spaces.
The planning response places the indoor sporting facilities and auditorium at the rear boundary adjacent to the highway as an acoustic and visual buffer to insulate the social and teaching spaces from the highway and allows them to overlook the mature tropical landscape of the township.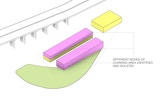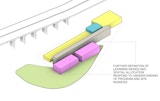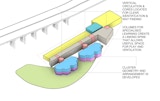 Pedagogy & Spatial Typology
Learning spaces were conceptualised and developed during an extensive collaborative and consultative process with client stakeholder groups and teaching staff. Early workshop sessions envisioned the new school as an opportunity to explore evolving ideas of pedagogy in childhood and teenage learning and establish new standards for educational facilities in Malaysia
The hexagonal teaching spaces are organised in year group clusters around central breakout spaces for informal teaching and student interaction.
The organisation subtly responds to the need for delineation between different age groups within the school and between students and general public whilst maintaining an overall inclusiveness within the school community.
Sustainability
The design is inherently energy and resource efficient in the tropical context. Long-term sustainability initiatives from material selection and energy efficiency are holistically considered to facilitate the building as an interpretive and day-to-day teaching tool in the school curriculum.
External, low maintenance façade screens allow filtered natural light while mitigating glare in the hexagonal learning spaces. The large main roof with screened skylights shades the voids while providing filtered light and promoting airflow and hot air stack venting. This benefits the comfort of circulation routes and activated social spaces along the linear court and also improving natural daylight to the teaching spaces looking into it.