Highgate Hill Residence
Highgate Hill, Queensland The new residence integrates the landscape into the living areas.
Traditional Custodians of the land
The Turrbal and Jagera people
Status
Completed 2007
Concept
To the North and East, the living level embraces the landscape as the upper level hovers over the ground plane as a protective canopy. In these areas, where the building is more intimate, the materials and detailing are deliberately fine and diminutive. To integrate the landscape with the living spaces on the middle level, the external openings are of a significant scale so that the internal floor plate opens up completely to the outdoor spaces which consist of a series of floating platforms of constructed ground planes of timber decking or turf.
The kitchen sits directly next to this opening, taking full advantage of the appropriated outdoor space. The kitchen is made from American Oak veneer which provides a durable finish for a busy space. The simple lines and planning shift the focus to the outdoor spaces, while maximizing functionality. The double height space adjacent to the kitchen, used for living and dining compliments the monumental scale of the south / west identity of the residence. The ceiling is finished in painted battens, allowing filtered light through to the interior. This recalls the veil-like timber screens of the façade and reinforces the idea of layers laid over and within a building volume.
Context
The Highgate Hill Residence is located on a south facing ravine adjacent to one of Brisbane's oldest ridgeline roads – Dornoch Terrace. The steepness of the rectangular site has resulted in a verdant and mature landscape consisting of a mixture of native and exotics, which created the opportunity to place the house within a rich landscape environment.
As a result of the steepness of the site and the desire to connect the house to an outdoor ground plane the house adopts two distinct identities – the north (landscape) and east (street) is a diminutive floating single level volume hovering over fine steel pins – the south and west (distant views) the vertical and monumental character is revealed of the tall three level residence.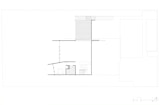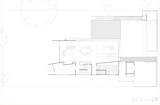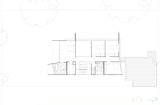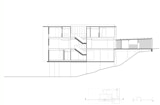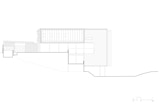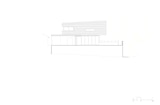 Richard Kirk's Highgate Hill house takes the Queenslander into new territory. Trademark stilts are there to straddle the site, and timber is the driving material but connection to the landscape is more finely tuned, as is all the detailing
Alice Hampson and Sarah Foley, 2008
Monument Magazine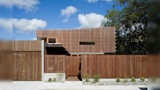 | | |
| --- | --- |
| Structural & Civil Engineers | Farr Engineers |
| Electrical and Hydraulic Engineers | Norman Disney & Young |
| Landscape Architect | Arbour Essence |
| Contractor | Charlie Woodward Builder |
| Photographer | Jon Linkins |