Fairfield Riverfront Home
A beautiful 4-bedroom family home on a spectacular waterfront site, conceived as a series of courtyards forming a gallery experience of the Brisbane River.
Location
Brisbane
Stage
Documented design
Envisioning a modern riverfront sanctuary
KIRK was engaged to produce a fully documented design for this beautiful waterfront home, located on the Fairfield Reach of the Brisbane River.
The home was intended to be a modern sanctuary in touch with the natural beauty of its surroundings, offering a gallery experience to celebrate the site's unique riverfront position, which opened onto dramatic views up and down the Brisbane River.

Residential riverfront constraints
Our design needed to accommodate a number of site constraints brought about by the urban riverfront location. Flooding was a key consideration, after the devastation of the 2011 Brisbane floods.
We needed to carefully balance Raparian Zone requirements dictating minimum height above sea level for habitable floor levels, with Brisbane's maximum height restrictions for residential developments, as well as the homeowners desire for features such as a double-height library and sunken lounge.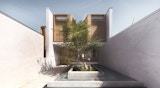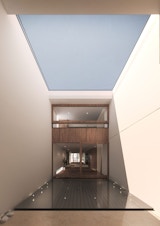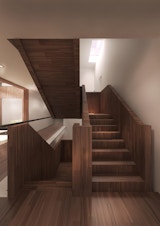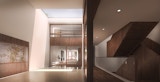 A gallery experience of the Brisbane River
The home was conceived as a series of courtyards offering a gallery viewing experience of the Brisbane River.
The raw beauty of the site was expressed in the natural materiality of concrete, timber, stone and glass.
The living levels comprise a series of stone platforms that step up from the street to meet zoning requirements, and create a stunning entry sequence that wraps around a watercourt.
The home features a cantilevered living area overlooking the Brisbane River that celebrates the spectacular breadth of views.

The home's large open voids create a sense of space that adds to the gallery feel. They also capture the Riparian breeze and are conduits for natural light, enhancing the home's biophilic connection to place.