Tower of Light
KIRK's design for this inner-city high rise, Columbaria building, responds to the difficult site conditions, spiritual and religious needs and range of usage modes to make a memorial facility both monumental and sublime.
Location
Cheras, Kuala Lumpur
Client
Eternity Columbarium Sdn Bhd
Status
Planning Approval
Gross Floor Area
22,000 m²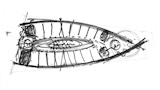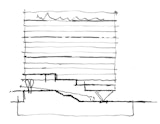 Concept
The memorable fine screened façade is a muti-functional feature which not only protects the building, but serves as a grand gesture for the function of the building. The structure is sensitive to Malaysia's cultural and religious pluralities and was used as a key component to the design. As the sun follows its natural path throughout the day, the building's design will transform. Durring the day, the Tower of light will shimmer alluding to the process of life, whilst in the shift into evening the ephemeral quality at night alludes to the infiniteness of creation.
Context
The proposed building will consist of columbaria, ceremonial and ancillary facilities and is located on a difficult infill site 6 kilometres from Kuala Lumpur city centre. The site is bound by a petrol station, cemetery and main arterial road with elevated MRT line where upper levels will command expansive views of the Kuala Lumpur skyline.
Sustainability
The intended 100 lifespan of the building and intermittent mode of occupation requires a rigorous approach to reduce long terms operational and maintenance costs.
The sustainability strategy learns from the new benchmarks in tropical architecture developed at The Arc NTU in Singapore.
As a permeable and open building, inurnment and festival spaces are designed to provide adequate comfort under natural light and ventilation, complimented by mix mode and active cooling where the building program specifically requires.
Construction methodology, detailing and material resilience is being holistically considered with low maintenance and durable materials specified throughout to ensure the building has a resilience befitting of its use.
| | |
| --- | --- |
| Local Submitting Architect | Draften Sdn. Bhd. |
| Sustainability | Neapoli Sdn. Bhd. |