BSG Commercial Office
The BSG Commercial Office is a new Class A boutique office building located within the Brisbane Showground's (BSG) precinct. As the host of the Ekka, the BSG precinct is poised to become a new destination — a precinct that will be appreciated as much for its rich historical character as for its bustling new urban centres of commerce. Soon to be adjacent to one of the city's new crossriver rail stations, the project exemplifies smart, transit-oriented development.
Location
Brisbane Showgrounds
Client
Lendlease
GFA
17,000m²
Status
In Progress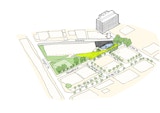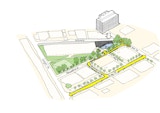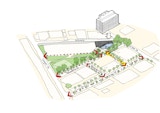 Concept
The 10-storey office building features a bold yet timelessly elegant façade, expressed as a grid of sculpted terracotta terminated at the awning of the street plaza. The vibrant & active covered public realm is accessible and safe with a varied landscaped palette to reinforce the architecture, whilst respectfully engaging with existing fig tree. These established trees boost the office floor plates via the open-air/mixed mode wintergardens enhancing the connection between the exterior & interior.
The BSG Commercial Office will provide 10,500 square meters of highly flexible office space. The expressive façade aligns with a highly flexible floor plate to accommodate varying office program. Structural columns are offset three metres from the façade, creating flexible workspace & breakout zones.
6 Star Greenstar
The BSG Commercial Office is targeting 6 star greenstar certification. Large floor-to-floor windows flood the natural light deeper into the interiors. For exceptional energy efficiency, the façade profiles are designed to minimise the building's heat loading, requiring less mechanical intervention. The building engages with Brisbane's subtropical paradise, utilizing mixed mode ventilation strategies. Along with improved insulation, this helps the building meet Australia's NCC2019 section J. Secure bike storage will be offered on the ground floor, featuring executive-style end of trip bathrooms, showers and changing rooms to cater to an active lifestyle.