Borneo Convention Centre Kuching Expansion - BCCK 2
The next stage of the Borneo Convention Centre Kuching expansion, BCCK 2, is a landmark project for Sarawak. Set to be one of the world's largest single-floor timber structures, at 15,500 m² under-roof with a clear span of 42metres, BCCK 2 has the potential to propel Sarawak's engineered timber industry and significant economic growth for the region.
Client
Sarawak State Government
Location
Kuching, Sarawak, Malaysia
Gross Area
15,500 m²
Status
Design approved
World-leading, industry-making design
Sarawak State Government commissioned BCCK 2 to bolster Sarawak's premium tourism industry by increasing the site's capacity for international, large-format events and exhibitions.

Recognising that BCCK 2 could be a catalyst project for the local engineered timber industry, Sarawak Timber Industry Development Corporation (STIDC) invited KIRK and local partner, Arkitek KDI, to present a design demonstrating engineered timber's full potential.

Our design has now been officially endorsed, as has the use of engineered timber for all structural components, with the State Government announcing its commitment to invest in local engineered timber manufacturing.
This project will be transformative.
If locally sourced, the timber required to build this project could triple Sarawak's GDP contribution.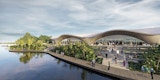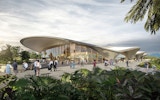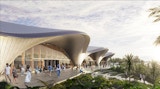 BCCK 2 is more than just a building – it is an insight into a burgeoning new industry. Engineered timber is the newest generation of building materials that address the pressing need for the decarbonisation of the building industry. It utilises new digital design and manufacturing capability.
Richard Kirk
Founder and Director KIRK
This places Sarawak in an enviable position whereby we can harness our natural renewable resources to create a high-tech renewable industry that is sustainable and sustaining. BCCK-2 is a gateway into that new future.
Richard Kirk
Founder and Director KIRK
Parametrically optimised high performing timber design
BCCK 2's distinct form resembles the seed of the Belian tree — an iconic, protected local hardwood species. The indigenous peoples used Belian in traditional buildings, such as their traditional homes, longhouses (Rumah Panjang).
The building's curvilinear form is parametrically optimised for the efficiency of the timber structure, with a clear span of 42 metres.
The curves allow extensive overhangs to protect the building interior and occupants from the intense tropical rainfall and solar radiation.
Timber was chosen for its environmental performance, reducing carbon emissions by 60-75% compared to traditional materials, in line with global targets and Sarawak's Post-Covid-19 Development Strategy 2030.
Prefabrication of timber components will also streamline assembly and fast-track project delivery, even for a building of this size.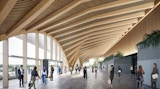 Connecting to nature
BCCK 2 sits adjacent to the existing Convention Centre, set on a sprawling waterfront site in Kuching, overlooking the Sarawak River.

The landscape vision is driven by the region's rich local ecosystems and is reminiscent of the natural history of the tropical rainforest, coastal location. The form and arrangement pay tribute to Kuching's estuarine patterns.

The design aims to re-introduce flora and fauna diversity within the micro-ecosystem of the site, providing a green contribution to support a 'Clean Malaysia'.