WWI & WWII Memorials
KIRK received first prize in an international two-stage design competition for the National WWI & WWII  Memorials.
Client
National Capital Authority
Status
Winning Competition Entry
Traditional Custodians of the land
Ngunnawal people
Location
Canberra, ACT, Australia
Context
The project is located on the Griffin land axis, on a site of national significance in Canberra. The monuments are contemplated as enduring symbols of loss, separation and sacrifice. The memorials' design avoids overt symbolism, narrative or the figurative. The design intent for the memorials is for them to appear as though they have always been in place at the site and that they have evolved into their proposed form there. They are deliberately neutral and abstract to allow many meanings and create their own inherent and unique quality of commemoration specific to the events and the impact on Australia in the past and into the future.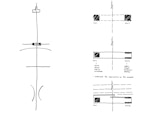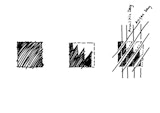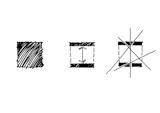 Concept
The design process uses the neutral forms of the monolithic blocks or obelisks. It then uses the suns position in the sky at significant times to make the resulting form through a carving and removal process. Cuts and slices are made through the blocks using the sun's location on key dates and times of the important events during the two world wars.
The passing of the day and the seasons are powerful analogies for remembrance, and these memorials are linked to this by the fact they are "formed" by the passage of the sun and the passing of time as recorded by the suns position. The sun animates the memorials at different times of the day and year so that they become more active and mark the ground around, to create a different emotive experience depending upon the event that is memorialised.
WWI & WWII memorials: For those who served; who died; who mourned at home;
Materials
It is the process of carving/cutting removal of the form of the memorials that emulate the violence and the tragedy of the losses and separation. The use of a simply detailed single material for the memorials – Australian granite – means the representation of the idea remains pure, powerful, and enduring across the generations. Simplicity of detail and limited palette of materials are the key ideas for the memorials.
This singular approach denies or conceals the hand of the designer and thus enhances the potency of meaning and symbolism that is sought. The denial or concealment of construction or craft technologies makes the memorials timeless – which is the core intent of a remembrance – to make the memory of those who passed or suffered continue as though life itself is everlasting.
The Cenotaph grows in beauty as one strolls down alone o'nights to look at it, which becomes my habit. I stand cogitating why and how it is so noble a thing.
JM Barrie to Edwin Lutyens
Architect of the Cenotaph in Whitehall, 1920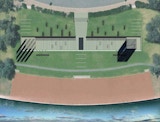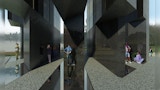 | | |
| --- | --- |
| Structural & Civil Engineers | Cardno |
| Stone Consultant | Hensel Geosciences |
| | | |
| --- | --- | --- |
| URO Media | 2015 | From the Ground Up: 20 Stories of a Life in Architecture |
| The Sydney Morning Herald | Feb. 2011 | War Weariness Casts A Pall Over Memorial Plan |
| The Canberra Times | Oct. 2010 | Memorial Will Work, Just Wait and See |
| The Canberra Times | Oct. 2010 | Architect Defends $21M Memorials |
| The Courier Mail | April 2009 | We will remember |
| The Canberra Times | March 2009 | Memorial to shine on Fallen |
| The Sydney Morning Herald | Feb. 2009 | New memorials to commemorate World Wars |
| The Canberra Times | Feb. 2009 | Dawn drawn into service: memorials align to sun |
| news.ninemsn.com.au | Feb. 2009 | New war memorial designs unveiled |
| sbs.com.au | Feb. 2009 | New war memorial designs unveiled |
| The West Australia | Feb. 2009 | New War Memorial Design Unveiled |