Garden International School Performing Arts Centre
The PAC is transformative in the reimagining of Garden International School. The new 'heart' to the school will elevate learning and enhance school community experience with it's technically advanced, memorable and user friendly spaces. KIRK were engaged by the Garden International School (GIS) to design a new performing arts complex as part of a larger masterplan to support the future growth the school. The project looked to develop a new model for performance spaces with embedded flexibility to facilitate orchestral and theatrical performance.
Client
TEG Assets Sdn Bhd. (Garden International School)
Status
In Progess
Location
Kuala Lumpur, Malaysia
Area
6,500m² Gross Floor Area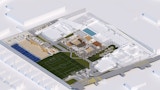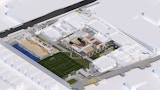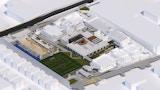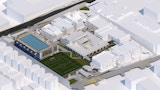 Context
The Garden International School is an existing campus located in densely populated residential area in Kuala Lumpur. Alongside the Performing Arts Centre, the masterplan includes a Sports and Aquatics Centre, new entries and a sub-basement carpark under an outdoor sporting field. The master plan re-organises pedestrian movement and vehicular access to the school, relieving stress on local traffic during peak school times.
Concept
The Performing Arts Centre (PAC) includes three key performance spaces including a highly creative and contemporary theatre with 560 seat capacity, Recital and Rehearsal Studio, and an Experimental Black Box Studio.
The new performance spaces will be forward looking and will consider future digital trends in theatre production and performance (including scenic projection). The PAC will create intimate audience/ performer experiences and be flexible to reflect the range of uses, the contemporary format of the room and the aspiration to present multiple theatre and music formats.
A large, covered foyer will be the new school Centre designed to facilitate day to day school social interaction, informal learning and performance, and cater for a range of other school and pre-function activities and events. This multi-use foyer reintroduces the tropical garden to provide an exciting, weather protected, outdoor place for all school users. Kirk has carefully detailed the space to ensure adequate daylight and air movement which is critical in the tropics.
The brief was developed collaboratively in close consultation with the Client executive, school management and teaching groups.