Garden International School Sports and Aquatic Centre
KIRK were engaged by the Garden International School (GIS) to enhance the campus and design a new sports complex. The program includes an Indoor Sports Hall and spectator seating, roof top 50m competition swimming pool and spectator seating, basement Carpark covered by outdoor sporting field, new school arrival, school offices, gymnasium and other ancillary facilities.
Client
TEG Assets Sdn Bhd. (Garden International School)
Status
In Progess
Location
Kuala Lumpur, Malaysia
Area
17,000 m² Gross Floor Area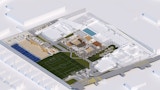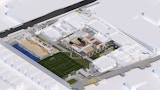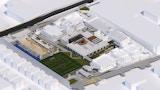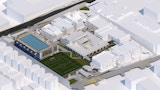 Concept
A large indoor sports hall that caters for basketball and a range of other sports is then roofed with a 50 meter competition swimming pool. This presented technical challenges requiring innovative structural and building systems solutions. Ancillary facilities are stacked to the side to provide both physical and visual connection.
The complex is elevated over a new basement carpark with an outdoor playing field above. The new basement and re-organisation of site access resolves long term carparking legacy issues which were a requirement for project planning development approvals.