Alice Street Pedestrian Bridge
Alice Street, Brisbane The pedestrian bridge was one of six priority projects to be selected to kick-start the transformation of Brisbane's City Centre. These projects will commence during the next five years to revitalise city streets and riverfront precincts, and better connect inner-city neighbourhoods.
Client
Brisbane City Council
Status
Proposed
Traditional Custodians of the land
The Turrbal and Jagera people
Deck Length
395m
Context & Concept
In 2013  KIRK provided a proposal for the Alice Street Pedestrian Bridge (Kangaroo Point Bridge), as a part of Brisbane City Council's New City Centre Master Plan.
The Alice Street Bridge creates a destinational link between the City and Kangaroo Point and improves integration with existing and planned public transport services. The strategy for the bridge is driven by objectives of aesthetic simplicity, economy and efficiency in construction. The intention is to deliver a bridge that minimises the impact on the river and contributes an elegant form to an evolving city skyline.
The bridge's form is developed from the structural solution, which simply and clearly expresses the flow of internal forces through its static system. The languid curves of the river provide a framework for the geometry of the bridge. The double curve aligns the Alice-Edward Street intersection with Thornton Street, Kangaroo Point, and creates an elegant gesture across the river.
The bridge contributes to an environment that increases the viability of the full range of sustainable travel choices in the CBD.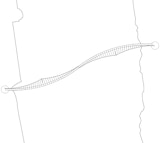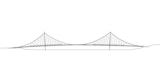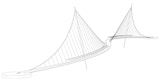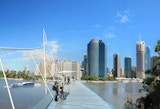 | | |
| --- | --- |
| Structural Engineering | Greg Killen Consulting Engineers |
| Planning | URBIS |
| Bridge Consultant | SHP |