Gold Coast Light Rail
Gold Coat, Queensland KIRK's Master Plan includes a light rail system including stations, depots and substations.
Client
Queensland Government
Status
Proposed 2010
Traditional Custodians of the land
The Turrbal and Jagera people
Gross Floor Area
17km Length
Context
The Gold Coast Rapid Transit is a light rail system, running between Parkwood and Broadbeach (approx.17km) generally within existing road corridors. While the trains would be segregated from existing traffic lanes along most of its route, they would share road space with other vehicles for short distances. The project may form the first stage of a more extensive tram system for the Gold Coast. The locations of up to 16 tram stations have been identified along the route, with major transport interchanges at key locations. During peak hours, services could run every 6 minutes with off-peak services every 20 minutes.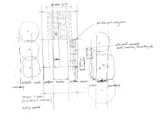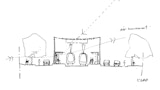 Concept
In collaboration with Clare Design, KIRK provided lead design services to one consortium bidding for the Gold Coast Rapid Transit project. The purpose of involving CD+KIRK was to provide the consortium with access to high-quality design leadership to ensure the project's built elements will be delivered to a high standard commensurate with the significance of the project for the Gold Coast.
The design vision is that the station is an "outdoor room" and the front door to the communities. The inspiration of the tree is derived from "the natural" as a counterpoint to the built environment. The station infrastructure is simple, secure and sophisticated. The canopy's visual impact is enriched by reducing the number of platform elements and grouping functions (bins, ticket machines, maps, etc.). Clutter is reduced.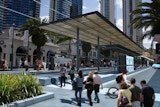 | | |
| --- | --- |
| Kirk in venture with | Clare Design |
| Renders | Ben the Render man |